Savor Towson: Top 10 Must-Try Restaurants in Towson, MD
Posted by Ron Howard on Saturday, September 23, 2023 at 9:27:15 AM
By Ron Howard / September 23, 2023
1 Comment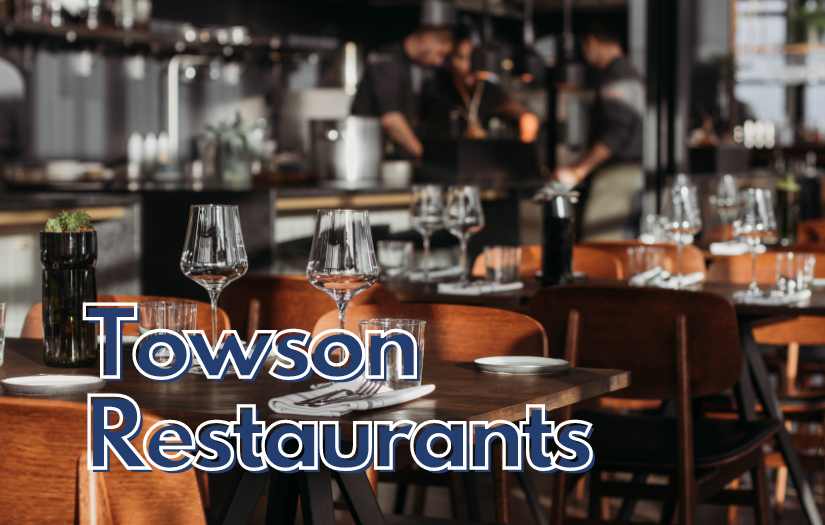 Towson, a vibrant Baltimore County, Maryland community boasts a blend of history, modernity, and undeniable charm. As one of the state's cultural and educational hubs, Towson seamlessly merges its rich heritage with the energy of urban life. One of the town's standout features for residents and visitors alike is its burgeoning culinary scene. From cozy diners to upscale bistros, Towson's diverse range of restaurants offers something for every palate.
When it comes to dining in Towson, options are plenty. Whether you're craving spicy Mexican delights, classic American favorites, or even a melting pot of flavors – quite literally – Towson won't disappoint. For those looking to make the most out of their Towson dining experience, there's a treasure trove of eateries awaiting your discovery.
The diverse flavors found in Towson restaurants are a testament to the town's evolving cultural landscape. Whether you're a local or a visitor, these eateries offer more than just delectable dishes—they offer an experience. Here's our handpicked list of must-visit Towson restaurants:
Chapters
1. Perennial
4. Towson Diner
5. Bread & Circuses Bistro & Bar
10. Pho Dat Thanh
Perennial
Perennial is an epitome of freshness, a testament to Towson's dynamic culinary landscape. Embracing sustainability at its core, the restaurant goes above and beyond in its commitment to local produce. This dedication is evident in its seasonally curated menus, where chefs harness the best of the season's offers. As guests step inside, they're met with a blend of relaxed elegance, setting the stage for a gourmet culinary journey. Every dish bursts with vibrant flavors, echoing the passion and craftsmanship of the culinary team. The innovative combinations beckon diners to explore and rediscover with every visit. It's not just about food; it's about championing local produce and the community. For true aficionados of the farm-to-table ethos, Perennial is an absolute must-visit.
7 West Bistro Grille
Set in the pulsating heart of Towson, 7 West Bistro Grille is more than just a restaurant; it's an experience. Renowned for its fusion of Mediterranean and American cuisines, every plate here is an artful balance of flavors. The interiors, echoing warmth and charm, create an inviting atmosphere equally fitting for intimate dinners or grand celebrations. Every dish is a culinary narrative, paying homage to the gastronomic legacies of the Mediterranean and America. The attentive staff, always eager to enhance the dining experience, adds a personal touch that's rare to find. The variety of mouthwatering options ensures that everyone finds their personal favorite. Many who dine here immediately plan their next visit, captivated by a culinary journey that remains etched in their memory.
Nacho Mama's Towson
Nacho Mama's Towson is not just a dining spot; it's a vibrant celebration of Mexican culture in Maryland. Each dish reflects Mexico's rich culinary tradition, bursting with bold flavors and crafted from time-tested recipes. The restaurant pulsates with energy, enhanced by its quirky decor that resonates with the lively streets of Mexico. As the music plays, it's easy to get lost in the ambiance and feel transported to a festive Mexican fiesta. Beyond its food, the restaurant encapsulates the essence of Mexico, offering an immersive experience for the senses. Both the eyes and taste buds are in for a treat. For those longing for a genuine Mexican culinary adventure, Nacho Mama's Towson awaits.
Towson Diner
Stepping into Towson Diner is like opening a cherished book, each page filled with stories of classic American dining. But this diner offers more than nostalgia; it's a culinary bridge where timeless comfort food meets modern innovation. From the sunrise breakfasts to midnight munchies, it caters to cravings around the clock. The interiors, adorned with cozy booths and a touch of retro charm, welcome patrons into its warm embrace. The ever-smiling and attentive staff add to the diner's homely vibe. Whether a classic favorite or a new twist, each dish promises satisfaction. It's more than a dining spot; it's a place where memories are made and cherished. Towson Diner is the perfect destination for those seeking a culinary embrace that feels familiar yet exciting.
Bread & Circuses Bistro & Bar
Hidden within Towson's bustling streets is a culinary treasure: Bread & Circuses Bistro & Bar. When one steps in, they're promised an experience tantalizing the senses. The menu is a global tapestry of flavors, surprises, and delights at every turn. Everything adds to the bistro's charm, whether it's the dimly lit interiors, rustic decor, or the gentle hum of conversations. Boasting a curated selection, the bar ensures that spirits are always high. Moreover, the live events infuse an energy that transforms an ordinary evening into unforgettable one. It's not just about satiating hunger; it's about creating memories that linger long after the meal. Bread & Circuses is the place to be for an enchanting evening filled with culinary wonders.
Towson Tavern
Elegance and culinary brilliance converge at Towson Tavern. This upscale haunt is a testament to fine dining, offering a menu that reflects the chef's unparalleled craftsmanship. Paired with an extensive wine list, each dish explores flavors. The interiors exude sophistication, with plush seating and tasteful decor setting the stage for an evening of luxury. Every dish is a culinary symphony, from the sizzle of a perfectly seared steak to the delicate flavors of a vegetarian masterpiece. But it's not just about the food but the entire experience. With their impeccable service, the staff ensures that every guest feels special. A visit to Towson Tavern transcends dining; it's a foray into a world of gastronomic opulence.
Orchard Market & Cafe
Beyond the usual lies the Orchard Market & Cafe, a culinary oasis offering a unique blend of Persian and Mediterranean delights. The quaint ambiance is just the beginning of what promises to be a memorable dining journey. Every meticulously crafted dish mirrors the rich culinary traditions of ancient Persia and the Mediterranean. The play of spices, the aroma of fresh ingredients, and the chefs' undeniable passion culminate in a menu that delights and surprises. It's more than just a meal; it's an exploration of cultures, a dance of flavors and textures on the palate. For those seeking a departure from the mundane and a taste of something truly special, Orchard Market & Cafe is the destination.
Cunningham's Cafe
In the heart of Towson, Cunningham's Cafe emerges as a sanctuary for lovers of baked delights and artisanal coffees. It's not just a cafe; it's an experience. The laid-back atmosphere beckons patrons to relax, whether kickstarting their day or unwinding with friends. With its flaky perfection, each pastry tells a story of dedication, while the coffees are a testament to the barista's artistry. The rotating menu ensures a new treat to explore, keeping the experience fresh and exciting. With every visit, one thing remains consistent: the promise of quality, flavor, and warmth.
The Melting Pot
The Melting Pot is a culinary theater offering a unique fondue experience in Towson. The restaurant invites diners to take the reins, allowing them to craft their perfect meal by dipping an array of ingredients into pots of molten goodness. The menu, ranging from savory cheeses to indulgent chocolates, is a feast for the senses. The intimate ambiance, accentuated by soft lighting, ensures each meal is an event to be cherished. The interactive nature of dining here provides laughter, conversation, and memories in the making. It's not just about food; it's about coming together, sharing, and creating moments of pure joy.
Pho Dat Thanh
Embodying the heart and soul of Vietnamese cuisine, Pho Dat Thanh stands as a beacon for authentic flavors in Towson. At its core is the aromatic pho, a dish that has garnered legions of fans due to its comforting warmth and intricate flavors. Beyond the pho, the menu unfurls a tapestry of dishes, each echoing the rich culinary heritage of Vietnam. The interiors, adorned with traditional motifs, enhance the dining experience, making every meal feel like a journey. The staff added the finishing touch with their warm smiles and genuine hospitality. Visiting Pho Dat Thanh is an absolute must for those yearning for an authentic taste of Vietnam.
>> Towson Blog Posts
>> Search Towson Properties
Moving To Towson
Living in Towson is not just about indulging in its culinary delights. The town offers a rich tapestry of experiences and has been steadily growing as a sought-after place to call home. With various neighborhoods and housing options, it caters to everyone from students to families to retirees.
One can find historic homes, modern apartments, townhouses, and more in Towson, making it an ideal place for anyone looking to put down roots. As the community thrives, this charming town has an increasing demand for homes.
If Towson's allure has captured your heart and you're considering making it your home, you need a trusted partner to guide you through the real estate process. Enter Ron Howard and the Greatest Moves Team of Remax Advantage. With a reputation for excellence and a deep understanding of Towson's real estate market, they are your go-to experts for buying or selling in Towson. Trust in their expertise and make your dream Towson home a reality today!