A Market Report on the 21224 Zip Code including Canton, Brewers Hill, Highlandtown, Dundalk and Greektown
Posted by Ron Howard on Thursday, May 18, 2023 at 4:23:22 AM
By Ron Howard / May 18, 2023
1 Comment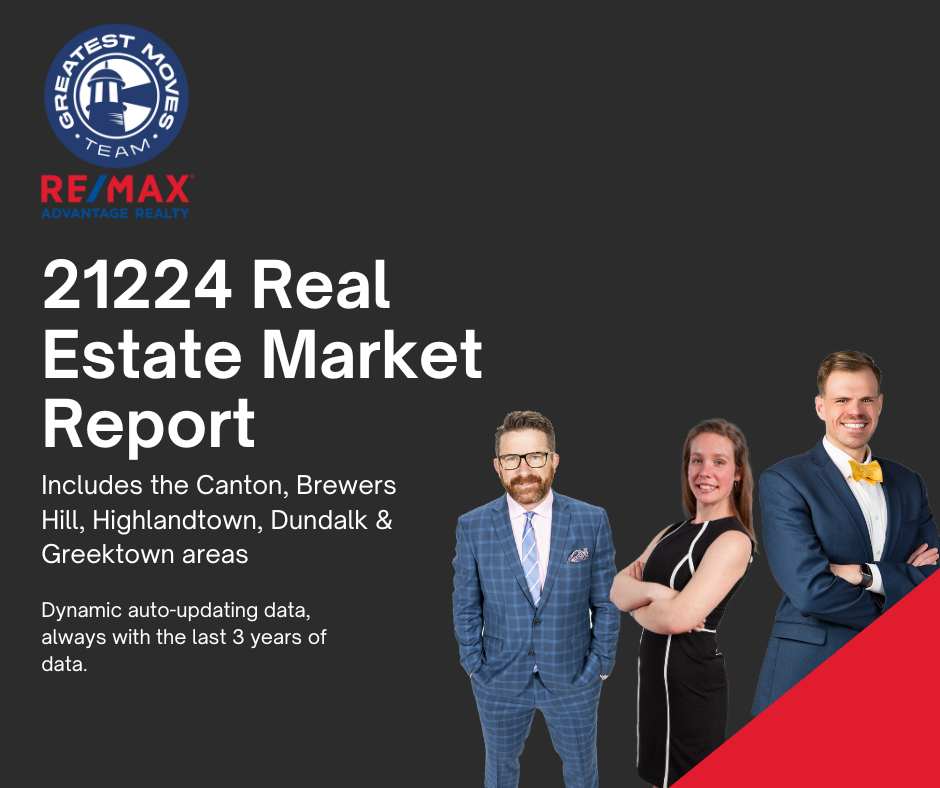 I've crafted a cutting-edge real estate market report tailored for the 21224 zip code, providing an exhaustive overview of the local property market. This report encapsulates vital indicators from the last three years, including average sales price, finalized sales, pricing ratios, time spent on the market, and cost per square foot, offering comprehensive market scrutiny. To ensure accuracy and relevancy, the report is refreshed automatically to reflect current market dynamics. It is an essential tool for anyone wishing to understand the 21224 real estate landscape, whether prospective buyers, sellers, or investors. The insights derived from this report will empower you to make well-informed real estate decisions.
(5/15/2023) The real estate market within the 21224 zip code has demonstrated remarkable growth over recent years, marked by sturdy demand and a steady increase in property prices. Minor market fluctuations notwithstanding, the locale have maintained a healthy property market equilibrium of supply and demand. The selling speed of homes in the 21224 zip code has increased, with fewer days on the market, indicating a buoyant real estate market, making this area a compelling consideration for potential homeowners and investors.
As an experienced real estate agent active in 21224, I am committed to keeping abreast of the most precise market information. I've provided these automatically-updating charts to offer a clear insight into the market conditions in this area. I aim to help you make the most beneficial decision, whether buying or selling a home, to ensure your financial prosperity. Please rest assured that I'm here to serve as your regional market expert and guide throughout the real estate journey.
Ron Howard and the Greatest Moves Team have positioned themselves as the leading choice for buying or selling a house or condo in the desirable 21224 zip code. This area encompasses the vibrant neighborhoods of Canton, Brewers Hill, and Highlandtown. Operating from their conveniently situated office in the heart of Fells Point, this exceptional team of real estate professionals offers extensive local expertise, experience, and dedication to each transaction. Their unrivaled proficiency in these neighborhoods guarantees clients the highest level of guidance and bespoke service when navigating the complex and competitive property market. Placing your trust in Ron Howard and the Greatest Moves Team for your real estate endeavors ensures a smooth, effective, and enjoyable journey as you discover the perfect home or sell your property in this bustling and historic region.
Other Popular Baltimore City Neighborhoods