A Culinary Journey: Top 10 Restaurants in Pasadena, MD
Posted by Ron Howard on Thursday, September 21, 2023 at 4:46:15 AM
By Ron Howard / September 21, 2023
1 Comment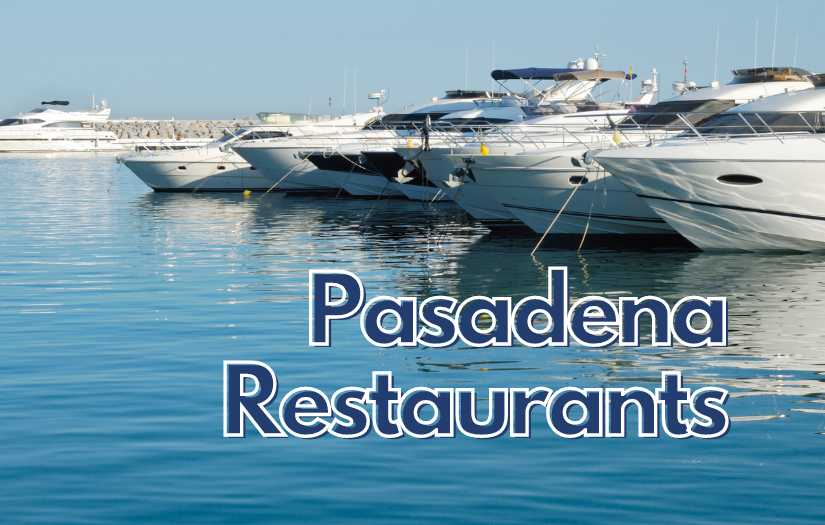 Pasadena, Maryland, comfortably positioned between Baltimore and Annapolis, is a straightforward, no-fuss town with a genuine appeal that locals are proud of. Here, restaurants and eateries serve honest, good food without the pretense. It's the kind of place where family recipes, handed down generations, are the menu's stars and where the chefs know their regulars by name. In Pasadena, meals are hearty, conversations are genuine, and the atmosphere is welcoming.
The beauty of Pasadena extends beyond its food scene. This working-class community is a testament to hard work, resilience, and camaraderie. Rows of homes, each with a story, resonate with a sense of belonging. Whether it's the chatter of kids playing in the streets, the friendly nods between neighbors, or the familiar ring of the local diner's bell, Pasadena's charm lies in its simplicity and authenticity.
The dining offerings in Pasadena might not boast of gourmet titles, but they guarantee satisfaction, both in taste and value. In a world that often moves too fast, Pasadena's eateries offer a comforting pause, a reminder of simpler times when the quality of a meal was judged by the warmth with which it was served. This is the heart of Pasadena: honest, welcoming, and unpretentious.
Our Pasadena, MD, favorite restaurants:
Chapters
1. Mutiny Scratch Kitchen & Fresh Bar
2. Two Rivers Steak & Fish House
Mutiny Scratch Kitchen & Fresh Bar
A haven for those who seek authenticity in their food, Mutiny Scratch Kitchen & Fresh Bar is the epitome of culinary craftsmanship. This restaurant specializes in farm-to-table dishes, always ensuring fresh and flavorful meals. With an innovative twist on traditional recipes, Mutiny offers a culinary experience unlike any other in Pasadena. Their chefs playfully experiment with flavors while staying rooted in the dish's essence. With a warm ambiance and attentive service, every visit feels special. And if you're up for some refreshing beverages, their signature cocktails are a must-try, masterfully crafted to complement your meal. Don't be surprised if you become a regular here, as Mutiny's allure is hard to resist.
Two Rivers Steak & Fish House
Nestled in the heart of Pasadena, Two Rivers Steak & Fish House radiates charm and culinary expertise. This dining spot stands out for its commitment to sourcing the best ingredients. Whether it's a steak seared to perfection or fresh seafood caught from local waters, Two Rivers promises a gastronomic delight. The ambiance here is as appealing as the food, making it perfect for casual dinners and special occasions. Every bite tells a story of the land and the sea, and with their diverse menu, you're bound to find something you love. Add in their impeccable service, resulting in a dining experience that beckons for repeat visits.
Cookie's Kitchen
Step into a world of nostalgic flavors at Cookie's Kitchen. Home-style cooking takes center stage, bringing back memories of festive family dinners and lazy Sunday brunches. Each dish is prepared with love and care, reminiscent of grandma's cherished recipes. The warm and friendly staff adds to the charm, making diners feel at home. The cozy interiors, adorned with memorabilia, make for the perfect backdrop to enjoy your meal. It's not just a place to eat but to relive those treasured culinary memories, sharing them with new friends and old ones.
Rams Head Dockside
Picture this: dining with a picturesque water view, where the gentle breeze carries the aroma of fresh seafood and classic American dishes. That's the magic Rams Head Dockside weaves for its patrons. This eatery seamlessly blends a relaxed atmosphere with top-notch food. Their menu boasts a mix of local seafood delicacies and beloved American classics, ensuring something for everyone. Rams Head offers the best waterfront dining, perfect for celebratory occasions or simple lunches. Whether you're out with friends or family, every moment spent here is bound to be memorable.
Broken Oar Bar & Grill
An embodiment of community spirit, Broken Oar Bar & Grill is a beloved gathering spot. With its laid-back ambiance, it is the ideal spot for those looking to kick back and enjoy some fantastic food. The grill favorites, from juicy burgers to flavorful ribs, are the talk of the town. And when paired with a cold drink, the combination is irresistible. Whether you're seated indoors amidst rustic interiors or enjoying the outdoor patio under the sun, the welcoming vibe of Broken Oars ensures a delightful time.
Mike's Crab House North
Celebrate Maryland's seafood legacy at Mike's Crab House North. This establishment has carved a niche for itself among crab enthusiasts. With a prime location offering panoramic water views and an ambiance that evokes coastal charm, dining here is an experience for all the senses. Handpicked and prepared to perfection, the crabs are a joy for the palate. Combined with its extensive seafood menu and friendly staff, Mike's guarantees an authentic Maryland dining experience.
The Beach Bar
Dive into a coastal oasis right in Pasadena at The Beach Bar. Infused with a laid-back beach vibe, this spot is an escape from the mundane. From zesty cocktails to tantalizing seafood dishes, the menu is a tribute to seaside pleasures. The interiors, adorned with beach-themed decor, enhance the vacation-like atmosphere. It's a space where every sip and bite transports you to the sunny shores, making for a delightful getaway.
Founders Tavern & Grill
Taking you on a culinary journey through America's diverse food landscape, Founders Tavern & Grill is a gastronomic treasure. Housed in a rustic setting, the restaurant offers a menu blending tradition and innovation. Every dish reflects America's rich food culture, from succulent burgers to zesty salads. The passionate staff, dedicated to ensuring a memorable dining experience, adds charm. Founders isn't just a restaurant; it's a tribute to the timeless flavors of America.
Twain's Tavern
Nestled in the heart of Pasadena, Twain's Tavern is a blend of history, charm, and contemporary dining. Named after the legendary author Mark Twain, the tavern carries an air of classic sophistication reminiscent of the literary salons from days gone by. But don't let the historical references fool you; the menu is an eclectic mix that caters to modern palates. Every dish and beverage is crafted to perfection, from savory appetizers to hearty mains and refreshing drinks. The harmonious blend of rustic and chic ambiance makes it a favorite hangout spot for young adults and seasoned patrons. Whether you're looking to enjoy a quiet evening with a book and a glass of wine or a lively night with friends and live music, Twain's Tavern offers an experience that resonates with all. So, the next time you're in Pasadena, let the spirit of Mark Twain guide you to this delightful tavern for an unforgettable time.
Don Pancho Mexican Grill
A vibrant gem in the heart of Pasadena, Don Pancho Mexican Grill is where traditional flavors meet modern flair. This establishment prides itself on serving authentic Mexican dishes, each plated with passion and precision. From the spicy tang of their signature salsas to the rich texture of their homemade tortillas, every bite transports you straight to the bustling streets of Mexico. The ambiance is lively and colorful, echoing the spirit of a fiesta. Hand-painted murals adorn the walls, and the rhythmic strumming of Mariachi tunes often fills the air. But beyond the food and decor, what truly sets Don Pancho apart is its commitment to authenticity. Using recipes passed down through generations, the chefs here curate a dining experience that's as genuine as it gets. Whether you're craving a zesty taco, a refreshing margarita, or a hearty burrito, Don Pancho Mexican Grill promises a culinary journey that's both delightful and memorable.
Moving to Pasadena, MD
Pasadena, MD, truly is a treasure trove for gourmands. Every meal becomes an adventure with such a wide array of culinary offerings. Whether you're in the mood for fresh seafood, a juicy steak, or a comforting home-cooked meal, Pasadena covers you. And if you ever find yourself enamored with the beauty and charm of this city and decide to call it home, top-producing realtor Ron Howard and the greatest moves team of RE/MAX Advantage are here to assist with all your Pasadena, MD real estate needs. Dive into the flavors of Pasadena and let its magic captivate you!
Other Cities in Anne Arundel County