14 Popular Baltimore City Neighborhoods
Posted by Ron Howard on Wednesday, May 24, 2023 at 6:05:51 AM
By Ron Howard / May 24, 2023
1 Comment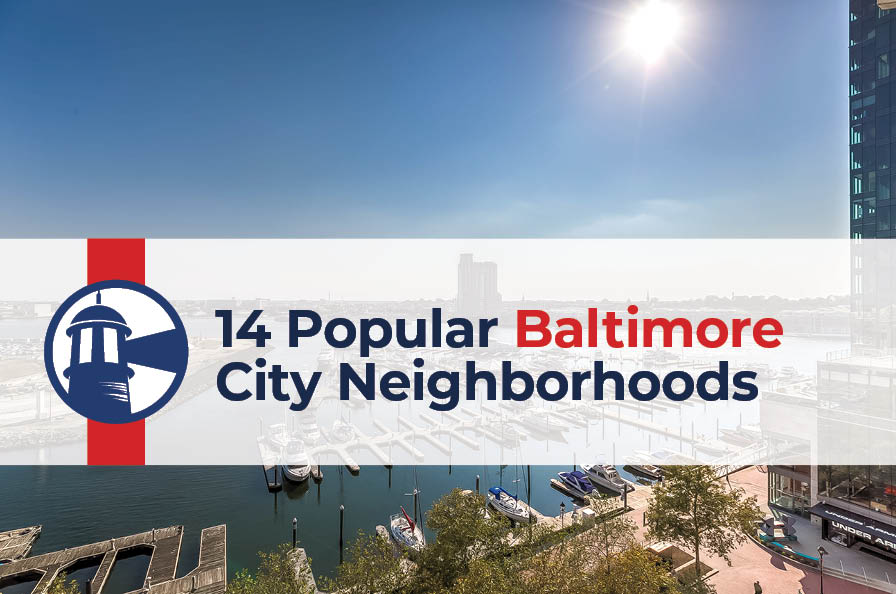 Baltimore City is a vibrant and diverse city with many unique neighborhoods, each with its character and charm. Here are short descriptions with links to more information about why people love some of Baltimore's most popular communities:
Chapters
Barre Circle
Here, the residents are accustomed to the seamless blend of past and present that manifests in charming cobblestone streets lined with modern amenities and landmarks that transport you back in time. Its strategic location makes for easy commutes to several universities and downtown Baltimore. The neighborhood's charm is further enhanced by the numerous community events that foster a tight-knit environment. Learn more about Barre Circle.
Bayview
Bayview's idyllic charm is an attractive proposition for those seeking a peaceful and affordable life within the urban landscape of Baltimore. From welcoming local businesses to the plethora of public parks, Bayview embodies the spirit of a close-knit community. The neighborhood's access to interstate and public transportation adds to its appeal, making it an accessible and convenient option for its residents. Learn more about Bayview.
Brewers Hill
Brewers Hill offers a thriving commercial district filled with an eclectic mix of local shops, top-tier dining establishments, and lively bars that offer the convenience of city living. Yet, the neighborhood maintains an inviting suburban charm, with its well-maintained green spaces perfect for strolls. The active community association enhances the sense of belonging among the residents, arranging numerous events throughout the year. Learn more about Brewers Hill.
Butchers Hill
Beyond its well-preserved historic charm, Butchers Hill boasts a variety of amenities, such as local boutique shops, artisan cafes, and attractive public spaces. Its proximity to Patterson Park, one of the city's largest green spaces, provides ample outdoor opportunities for residents. Regular neighborhood events further contribute to Butchers Hill's tight-knit community spirit. Learn more about Butchers Hill.
Canton
In Canton, residents enjoy various dining and shopping options within the neighborhood's lively commercial district. Moreover, the beautiful Canton Waterfront Park provides an excellent space for outdoor activities, enhancing the neighborhood's overall appeal. Its combination of city convenience and community warmth makes Canton a compelling choice for many city dwellers. Learn more about Canton.
Charles Village
Besides its architectural beauty and proximity to the Johns Hopkins University campus, Charles Village is recognized for its vibrant cultural scene. The neighborhood boasts an array of art galleries, theaters, and a diverse range of cuisines. The active community association frequently organizes events, creating an engaging and lively environment. Learn more about Charles Village.
Federal Hill
Federal Hill stands out for its vibrant nightlife, with various trendy bars, restaurants, and live music venues. The neighborhood also offers stunning panoramas of the city and harbor from the iconic Federal Hill Park. Its strategic location, combined with the unique mix of historic and contemporary offerings, makes it a desirable place to live. Learn more about Federal Hill.
Fell's Point
From the cobblestone streets to the historic maritime past, Fell's Point radiates charm. The neighborhood's bustling Farmer's Market is a beloved institution, offering fresh local produce and artisan goods. The waterfront provides residents with beautiful views and hosts numerous community events throughout the year, adding to the neighborhood's vibrant atmosphere. Learn more about Fell's Point.
Highlandtown
Highlandtown is a culturally diverse neighborhood filled with street art, galleries, and ethnic restaurants, providing a unique, eclectic atmosphere. It's also home to the Creative Alliance, a local hub for the arts. The strong sense of community and cultural vibrancy of Highlandtown make it a captivating place to live. Learn more about Highlandtown.
Little Italy
The neighborhood of Little Italy offers many traditional Italian restaurants and bakeries and hosts several cultural festivals throughout the year, showcasing the rich Italian heritage. The active neighborhood association and frequent community events contribute to the sense of camaraderie among the residents. Learn more about Little Italy.
Locust Point
This harbor neighborhood has preserved its industrial heritage while seamlessly blending modern facilities, including tech companies and modern apartments. Its key attraction, the historic Fort McHenry, is a national monument offering panoramic city views. Locust Point captures the essence of vibrant city life while preserving its historic charm with an array of dining options, cozy cafes, and active community centers. Learn more about Locust Point.
Patterson Park
Patterson Park is an expansive green space in the city's heart, offering residents recreational facilities, such as sports fields, a swimming pool, and walking trails. The neighborhood also has several annual events and festivals promoting community engagement. Its accessibility to the city's major districts and the peaceful nature-filled ambiance make Patterson Park an enticing neighborhood. Learn more about Patterson Park.
Mount Vernon
Known as Baltimore's cultural district, Mount Vernon houses several of the city's top cultural institutions, such as the Walters Art Museum and the Peabody Institute. The neighborhood also offers a variety of dining options, ranging from cozy cafes to upscale restaurants. Mount Vernon's attractive blend of historic architecture, cultural offerings, and urban convenience make it an enticing place to call home. Learn more about Mount Vernon.
Cross Keys
In Cross Keys, residents enjoy a tranquil suburban atmosphere and the benefits of city living. The neighborhood features a unique combination of residential spaces and a bustling shopping area known for its upscale boutiques and gourmet eateries. Its high-rated local schools make Cross Keys an appealing choice for families seeking a balanced lifestyle.
More Popular Baltimore City Neighborhoods